Many things in life become more difficult as you get older, and travel is no exception.
If you or a loved one still has the desire (or need) to travel but are struggling with the logistics, you may want to look into elderly travel assistance.
In this post we aim to answer any and all questions you may have about how to engage travel assistance. We'll cover some general travel assistance topics, but also dive into the specific solutions and options you have for getting help while you travel.
Let's begin.
What is elderly travel assistance?
Elderly travel assistance refers to various services and support provided to senior citizens or elderly individuals when they travel. The purpose is to ensure their safety, comfort, and convenience during their journeys, considering their specific needs and potential limitations associated with age.
As you'll see in the next section, this type of assistance can be planned in advance, or activated in response to a medical emergency.
What are examples of elderly travel assistance?
The scope of elderly travel assistance varies by situation, but some common examples include:
Specialized transportation
This is the act of providing transportation options that are accessible and accommodating for elderly individuals. It may include wheelchair-accessible vehicles, shuttle services to and from airports or train stations, or special arrangements for those with mobility issues.
Accommodation assistance
Travel companies or services may provide help with finding and booking accommodations that are suitable for elderly individuals, such as rooms with grab bars, easy access showers, or ground-floor rooms.
Medical support
Some travel assistance programs may offer access to medical professionals or emergency medical transportation services if hospitalized during the trip. This is one of the more commonly engaged services of Emergency Assistance Plus (EA+).
Travel companionship
For elderly individuals who may feel more comfortable traveling with someone else, some programs might arrange for a travel companion to accompany them during their journey if traveling solo.
Priority services
In certain situations, elderly travelers may be given priority when it comes to boarding, security checks, or other aspects of the travel process to reduce stress and waiting times.
Information and guidance
Providing elderly travelers with essential information about their journey, such as gate changes, flight delays, or other important updates, can help them stay informed and confident during their travels.
How to tell if you or a loved one needs travel assistance?
This is a deeply personal question. Some elderly people may actively seek help when they travel, but we all know friends and family who sometimes object to any type of special treatment.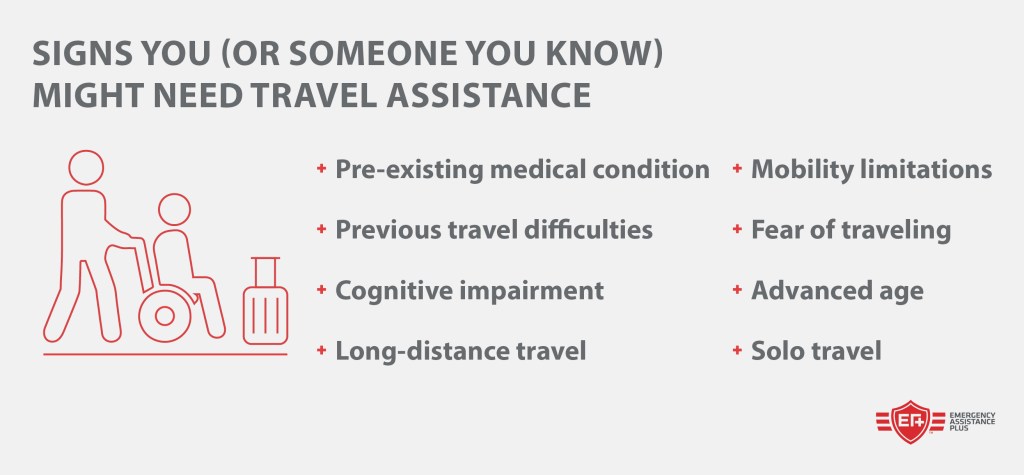 That said, anybody with any of the following characteristics may be a good fit for travel assistance:
Mobility limitations: Difficulty walking long distances, climbing stairs, or getting in and out of vehicles.
Pre-existing medical conditions: This could include chronic illnesses, mobility-related issues, or conditions that may require access to medical facilities during a journey.
Cognitive impairments: For individuals with cognitive impairments, having a travel companion or dedicated travel assistant can be helpful.
Advanced age: Elderly individuals, in particular, may benefit from travel assistance due to age-related limitations.
Previous travel difficulties: If the person has encountered challenges during previous travels, such as missed connections or struggling with luggage.
Fear of traveling: Some individuals may experience anxiety or fear while traveling, which can be mitigated with the support and guidance of travel assistance services.
Special needs: Individuals with special needs, such as those requiring dietary accommodations or accessible accommodations.
Long-distance travel: For long-haul or international flights.
Traveling alone: If the person is traveling alone and might feel more secure or comfortable with assistance.
If you're not sure or are on the cusp of needing travel assistance, you may want to consider a proactive approach by purchasing travel assistance from EA+.
Do airlines provide elderly travel assistance?
Yes, many commercial airlines offer elderly travel assistance to support and cater to the needs of senior citizens or elderly passengers. Airlines recognize that elderly travelers may require special attention and accommodations during their journeys, and they aim to make the travel experience as comfortable and stress-free as possible.
These services, typically free of charge, can include:
Priority boarding
Wheelchair assistance
Special seating arrangements
Assistance with luggage
In-flight assistance
Medical support
You will want to contact the individual airline in advance to inquire about any of these services.
How do you buy elderly travel assistance?
There are many companies that provide travel assistance for seniors, younger adults, and families. They each have their own scope of services, advantages, and costs.
If you're looking for medical support services while you (or a loved one) travels, here are a few reputable companies that you may want to research:
SkyMed
AirMed
Air Rescue Card
Good Sam Travel Assist
Note: These companies focus on medical support services for their members.
Additionally, you might want to check out this related post: How to Find Medical Travel Assistance
When comparing services, you'll want to note any restrictions that may affect your ability to activate services. In terms of restrictions, EA+ has:
No age restrictions
No pre-existing condition exclusions or medical exams for any age
No limit on trip duration
No limit on annual trip volume
No limit on distance from home to activate services, except for Washington residents who must be 100 miles from home.
How much does elderly travel assistance cost?
The price and cost structure of travel assistance varies by the company you choose, therefore you'll have to do your own research to find specific costs.
EA+ offers two annual membership options, each with a flat-rate with all services included:
EA+ Essential: $199
EA+ Premier: $249
The rates above are for an individual membership, and this is where EA+ differs from many competitors from a cost perspective—with EA+ it's only $40 more to protect your spouse or dependents with a family plan.
You can learn more about travel assistance plans and costs on our membership page.
How can you get elderly travel assistance in foreign countries?
For seniors traveling abroad, having access to travel assistance can be the difference between an inconvenience and a disaster.
It's important to note that in order to access travel assistance while abroad (and also domestically), you typically need to be enrolled in a plan prior to traveling.
Activating travel assistance services is as easy as dialing a phone number (or signing up online). As an EA+ member, once you contact EA+ for assistance, our experienced team will ensure you and your loved ones are properly cared for when a medical emergency arises while away from home.
How does elderly travel assistance work?
Many travel assistance companies, including EA+, use an annual membership model. Once you pay your annual fee and become a member, you're entitled to the services you've agreed to for that year.
Note: Be sure to check your membership for restrictions on things like trip duration, distance traveled, age and medical conditions, etc.
Once you're an active EA+ member, obtaining travel assistance is incredibly simple. The graphic below explains the process and you can learn more on our website.
If you're planning a trip and think you may require this service, please feel free to reach out to the team at EA+ with any questions or concerns. For more information on services and costs, please feel free to check out our website or call us at: 1-866-863-4460.