My husband, Joe, and I want to express how much your team means to us bringing us safely home!! Our hearts go out to all of you.
Our Transatlantic cruise from Tampa, Florida to Barcelona, Spain to celebrate my 70th birthday on the high seas was interrupted by a freak accident in the Azores, one of our Ports of call. While walking along a road, my husband wanted to take a pic of a small flower on the edge of a very steep road with gravel and rock. I told him "No Way" as it was dangerous, but he thought he was ok. As he stepped around me, his feet slipped on the gravel and gravity just pulled him down the road as he yelled, "I can't stop, someone help me".
Three men ran after him, but he crashed into a rock wall. When they brought him back to the road, he had a very large laceration to the bone in his right knee. He was taken by ambulance to a nearby hospital, cleaned and many stitches. We continued our cruise at sea for 3 more days with the ships doctor changing his dressing, but infection set in. Ultimately, the cruise ship sent us to a hospital in Valencia, Spain.
My nightmare became worse. The language barrier was horrible. He was bed ridden and I had the responsibility of his care – Bathing, bathroom, feeding and care for myself. While in the hospital I was allowed to stay with Joe. I had to buy our meals at the café in the hospital. After 3 days, I remembered that we had Emergency Assistance Plus. I placed a call and was reassured help was on the way.
All of you at Emergency Assistance Plus were there not only for Joe, but for me. I wanted to go home and felt I would be lost in Spain forever. They listened to me cry and comforted me by telling me I was not alone, and help was on the way, and I would not be left. I had a very emotional time with all of this. I can't tell you enough how comforting all of you were to me. God brought us all together!
Emergency Assistance Plus got me a room at a nearby hotel while we awaited our nurse escort to arrive to help get us home. When I opened the door when our nurse escort, Walter, arrived my heart knew I was going to be ok and go home. Walter went above and beyond and handled everything – finding a wheelchair for Joe, making appointments for our COVID tests, even making sure we ate and bringing me an adapter and charger for my phone which I had been unable to charge.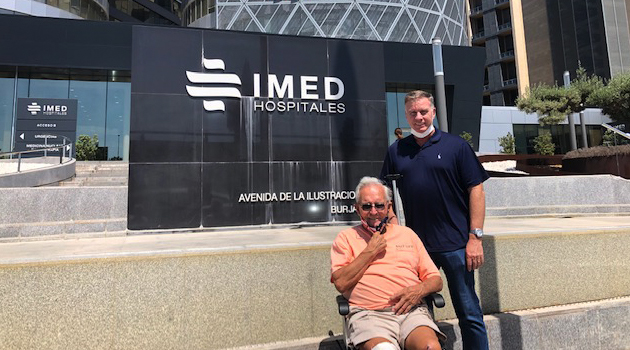 Finally, we were GOING HOME!! Our first flight took us to Frankfort, Germany. Once landed, Joe was well taken care of with transportation around the airport by minivan and wheelchairs and security to help with the airports. Thank you for arranging all of this.
For the first time in our lives, we flew first class due to Joe's medical condition and I was very much impressed by all of this. Walter helped Joe each time with bathroom needs and vitals throughout our long flight and when we landed in Miami, I let out a yell!!!  Our flight from Miami to Gainesville was short and a van was waiting for all of us to drive us home to Ocala, Florida. Once home, Walter took our luggage into the house and took Joe's vitals again and we bid our final farewells. I owe so much to all of you for being there for both of us.
This was a horrible experience for us both and I don't know what would have become of us if it had not been for your caring, loving people!! God brought us together and you brought us home. I will forever be thanking you all. From my heart to ALL of yours God Bless you all for everything.